About
---
There comes a time in the creative growth of an artist when he transcends the mere physical: when his work acquires a certain spiritual quality, addressing within us yearnings that we barely recognize till we meet them in a quiet moment of introspection in an epiphany that leaves us breathless and delighted. Atul Bakshi has now reached that elusive, beautiful place.
It's been a long journey. Seeking initially to comprehend the essence of form in its constituent minuscule elements when he constructed his intricate church panels of stained glass; exploring the dynamic interplay between color, form and light as interpreted by the refractive quality of glass when he sculpted his abstracts; seeking the middle passage that lies unrevealed between the ephemeral wispiness  of crystal and the intense solidity inherent in the opacity of pate de crystal; Atul Bakshi has been a seeker, a restless explorer, and a student of the myriad variety of the  manifest. Today, he is gone from seeker to seer.
Atul's work has now acquired the quality of the seer's crystal ball. The viewer spots first the color, the form, the dazzling brilliance but then, as one goes deeper in, the onion layers of sensory experience melt away and what remains in culmination is pure experience …. or pure subjectivity. Atul does not reveal a world; he holds up a mirror to one's aesthetic and spiritual realities. He opens a door not just to another kind of perception but to a path to the deepest recesses of one's inner consciousness…revealing the very structure of one's mind.
And what is utterly fascinating is that while the surrealists have used overwhelming sometimes grotesque if powerful images to break into this world of perception, Atul does it with an abstract three dimensional medium that is nothing and yet, it is the oneself with one's thousands of years of accumulated cosmic experience permeating one's soul, flowing through the medium of one's manifest being. In this place, there is no beginning, no end, no thought, no emotion, no reason and no why. Tat twam asi: thou art that.
Glass -The elusive art
Why is cast and blown glass the ultimate quest of the glass artist? Unlike a painting which can sit on a easel indefinitely and with which an artist can interact very slowly and very deliberately over a long period of time, slowly painting as he goes along, a glass artist pulls molten glass from the furnace and has 30 seconds in which to create after which the glass cools and can be worked no more. There is a zen like quality to this work, deliberation and thought do not create art: a magical moment of spiritual intensity are frozen in glass in a flurry of flying hands and then, something has been said.
Atul Bakshi's Exhibition experience
Although Atul has been predominately exhibiting his stained glass for many years, his decision to work mainly with the epitome of glass art – dates to 1995 when he first transited into this "final" medium that is the eventual and highest destination of any accomplished glass artist. Since then, Atul has participated in the following exhibitions:
April – May 2012 : Group exhibition at Art Spice Gallery, The Metropolitan Hotel, New Delhi.
April 2012 :  Group exhibition at AUDI Showroom,Gurgaon
Oct 2010 : Invited by Nobel Society to display cast glass sculptures at the  Swedish  Ambassador's residence. The display was along with the biggest names in International Glass art like Bertil Vallien &  Kjell Engman
April 2010 : 'ATUL BAKSHI- GLASS' Solo exhibition of Cast glass sculptures at Cymroza Art gallery, Mumbai
December 2008 : ' IN MSYTIC MOMENTS ' Solo exhibition of cast glass sculptures at Epicentre , Apparel House, Gurgaon
August 2006 : India Habitat Centre , New Delhi along with 9 Swedish Artists.
March 2006 :  Linkoping, Sweden with 9  Swedish artists among them the world renowned "Father" of Casting Glass: Bertil Vallien.
December 1999 :  Sculptures in Crystal at Vis-a Vis art and Design Centre, New Delhi.
Behold the Bloom – Cast Glass Installation in Sweden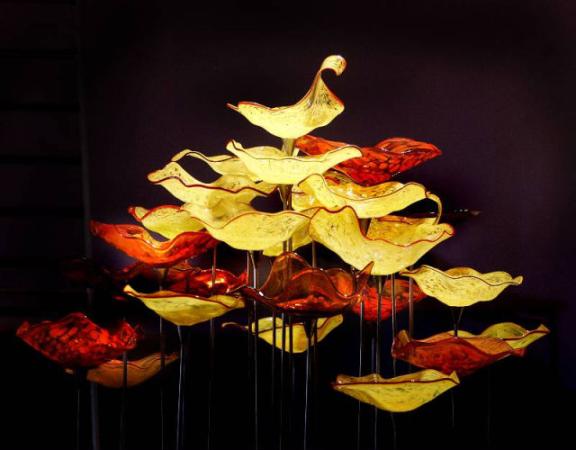 An important Swedish Daily wrote 'The most exceptional exhibit is Atul Bakshi's glass installation 'Behold the Blooms' with lotus like flowers, yellow and orange on man height stems. Here you find both color and sensuality'.
 List of the major Glass Installations/works done by Atul Bakshi :
1)  Lemon tree Hotel, City Centre, Gurgaon.
2)  Lemon Tree Amarante, Goa.
3)  Lemon Tree Pune
4) Lemon Tree Ghaiziabad.
5)  Lemon tree Ahmedabad, Aurangabad and Indore.
6)  Jindal Steel Corporate office Gurgaon ( Behold the Blooms)
7)  Polaris software, Gurgaon ( Glass Tower )
8)  Bishop Cotton School Chapel.
9)  Lawrence School Chapel entire 46 windows.
10) St.Paul's Church, Agra.
11) The Old Vicarage, Durham, England.
12) Nevil's Cross Hotel, Durham, England.
13) Holy Cross Church, Bangalore.
14) Spirit Restaurant Connaught Place, New Delhi
15) Good Times Restaurant, Vasant Vihar, ND
16) Qauntum Corporate office, NOIDA.
17) Linkoping Museum, Sweden
18) Swarovski India office New Delhi
19) "Mor Matsya" at SAAB Technologies, New Delhi.
20) "Blu Lotus" The especially made piece Volvo World Golf Challenge India 2011
21) St.Michael's Church , New Delhi
22) "Blu Octupus" The especially made piece  Volvo World Golf Challenge India 2012
23) "Fountain of Oneness" Public art at the Nirankari Sarovar Complex, Delhi